Finding the best PPC keyword research tool is an essential part of an effective digital marketing strategy. Digital marketers know that PPC (pay-per-click) advertising remains one of the most effective ways to leverage search engines to draw more people to your website. They also know that finding the right keywords is the first step in developing content, optimizing SEO and configuring successful PPC campaigns. Due to the complexities of PPC, businesses needs help with research to monitor your competitors' PPC & SEO tricks. This is especially true for those just getting started or those hoping to make a substantial improvement in the ROI of their PPC investment.
Fortunately, there are some powerful tools available to make your research more efficient and effective. Finding the right tool can save you hours of research time. It can also help ensure that you are always using the most impactful and cost-effective words and phrases to reach your specific target audience. Even more, you can gain a lot of depth of understanding about how keywords work and also how your competition stacks up when it comes to search engine rankings.
Traditional vs. Competitor Based
Before looking at some of the best tools, it is helpful to understand the two main approaches to PPC keyword research, traditional and competitor based. Both methods seek the same result, finding keywords for which your site can rank on the first page of the search results.
With traditional PPC keyword research tools, you start with a keyword. You can see the level of competition for that keyword and then can explore variations and alternatives for which you may have a better chance. Competitor based keyword research starts from the other side. Research tools in this category help you look at your competitors, see the words they are ranking for and helping you determine places you may be able to do better.
Here are 5 the best PPC keyword research tools available to marketers looking to boost their PPC ad ROI. Most of the options on this list are traditional PPC keyword research tools. The final selection is based on competitor based keyword research. However, many of these solutions blend some of the best features from each approach to give you the best possible overview for PPC strategy.
1. Google Keyword Planner
Google Keyword Planner is likely the best-known tool for discovering PPC keywords. It has two solid things going for it. First, it is provided by Google, and Google Search is where most marketers are investing their PPC dollars. Second, it is free as long as you have an AdWords account. Google Keyword Planner provides detailed stats including average monthly searches, general competition level, the average cost per click, and more.
Google Keyword Planner, is an excellent option for those just getting started with PPC keyword planning. While there are better tools for suggesting keywords, this tool is useful in helping marketers better understand competition and suggested keyword bidding.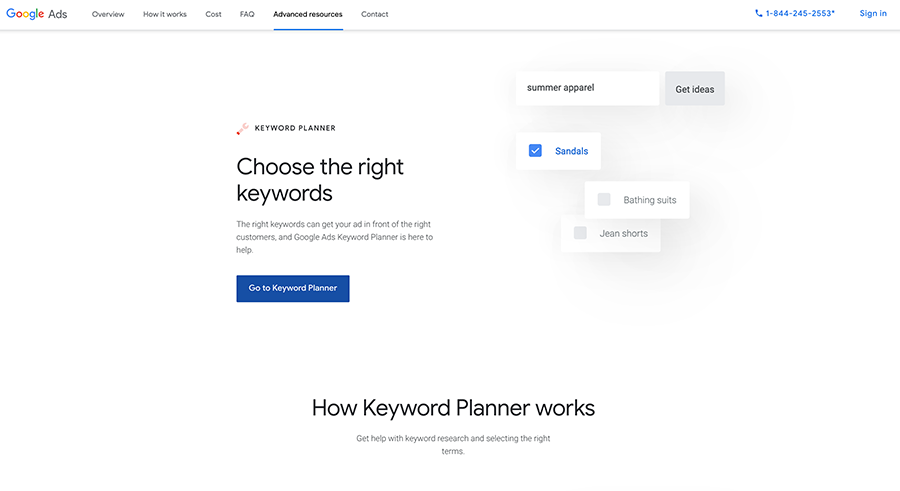 2. Wordstream
Wordstream's keyword suggestion tool is just one of a number of free keyword research tools that also includes Keyword Niche Finder, Negative Keyword Tool, and Keyword Grouper.
Wordstream's keyword suggestion specialties are niches (groups of related keywords) and long-tail keywords. This tool can provide comprehensive results based on your business's niche. It also has an extensive database of "long-tail keywords" for those looking to take advantage of longer and more specific search queries to boost traffic. The company claims to have a search base of a trillion search queries, meaning they have quite a bit of data to work with.
3. Ubersuggest
Ubersuggest combines the power of Google Analytics and Google Search Console into an easy to use PPC Keyword research tool. It returns nearly endless lists of keywords and keyword variations.
While Ubersuggest takes a traditional approach to keyword research,  it also gives you a report of competitor performance for any keyword and shows you where they rank.  This data can add another dimension to your approach to discovering words that will help you outrank your competitors and direct some of their traffic to your site.
4. Serpstat
Serpstat is a comprehensive SEO tool with PPC keyword research as one of its features.  Serpstat is different in that it is a page-oriented platform created for in-depth competitive analysis. The PPC results include keywords, competitors, ad examples, and ad research reports. The suite of SEO tools also includes Competitor Analysis, Site Audit, Backlink Analysis, and Rank Tracking.
Keyword research on Serpstat has a unique feature allowing users to view search questions and suggestions, based on real search queries. This creates another way to generate ideas for keywords and content.  Another feature that set Serpstat apart is its "tree-view" algorithm that allows you to check the positions of your pages in a graphical environment. This makes it especially easy to see places where your page falls just short of the first page of results and make improvements to move up your ranking.
5. SEMrush
SEMrush the option on this list that is primarily a competitor-based research tool although it does offer some features common to traditional PPC keyword research tools. Users can search their competitors' domains or, if they are unsure of the competition, search their own domain and see what other sites come up. Once the competitor site is entered, SEMrush returns all of the keywords the site ranks for along with extensive information for each keyword. The site also offers a traditional keyword research tool along with a keyword magic tool which delivers a massive list of related keywords for which you can research ranking possibilities.
PPC Keyword Research Takeaways
If you are new to PPC keyword research, there is a lot to learn just by spending some time working with these tools.  While PPC is effective at delivering leads, it is a band-aid until you start ranking on page one in Google search for the same respective search phrases. This leads to having a conversation between PPC vs inbound marketing and the distinction between near-term goals and long-term goals for lead generation. PPC keyword research might be the most important part of the strategy for search ads, so take the time to get it right. While PPC keyword research is time consuming, it's valuable to know what keywords your competitors are spending money on and how well their ads are performing.
If your company is looking to make better pay-per-click buying decisions and increase web traffic, it will be worth it to try more than one and see which features and interface work best for you and your niche. All of these PPC keyword planning tools offer comparable features and functions, but UberSuggest is completely free and constantly rolling out new features.